---
---
On Sun, Jul 11 2010, when I uprooted and cut some of the birches overgrowing my mother's patch, one of the twigs got under my glasses and brushed over my left eye. At first I didn't feel much - I had a slightly scratchy sensation as if a foreign body had embedded itself under the upper lid, but that wasn't the case. However, I noticed an instant decrease in visual clarity. My mum looked at the eye and recommended closing and resting the eye.

In the evening, back in Vienna, I decided to put my recently acquired ophthalmologic knowledge to good use and qualitatively assess the damage to my cornea. The result you can see below wasn't reassuring at all, so I looked for a hospital the next day.

Lorenz Boehler Unfallkrankenhaus next door which I have infrequently consulted in the past years for injuries was unfortunately not a a viable choice because they don't do eyes; according to the AKH homepage they would have required a referral from a doctor, and the last thing I wanted was havign to consult more than one place, although at that point (about 20 hours after the initial lesion) the eye still didn't hurt very much. I decided on SMZ Ost because a call there confirmed they would treat me without a referral. On the way I phoned the hospital where I was doing an internship and told them I'd show up late or not at all that day.

From there it went downhill painwise - I got an eye patch style bandage with antibiotics and every eye movement started to hurt, because now the cornea chafed on the eyelids (particularly the closing fold between upper and lower lid). I stayed at home for two days, only opening my eyes occasionally for playing audiobooks or infrequent chatting to give status updates.

When I came to the hospital on Wednesday (day 4), they were less than amused: I should have come the day before to change the bandages. Actually I had opened them myself because of the pains, but the memo that I should have returned on Tuesday just hadn't made its way to me. I tend to react to e-mails better than to spoken words. I got another pressure bandage and was asked to return the next day.

Thursday it was a lot better, I got one last bandage, and a prescription on Friday. The nurse told me I was the worst imaginable patient, but in a friendly way, and I was almost sorry to have missed that great opportunity to look through a slit lamp.

One more week of Oleovit (vitamin A) and Rifampicin (gentamicin sulfate) 5/d and I was as good as new ...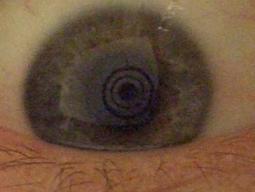 improvisiertes Keratoskop - gesundes Auge (r)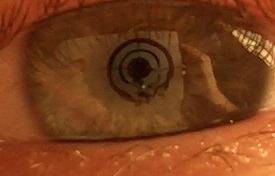 improvisiertes Keratoskop - Hornhautlaesion (l)

improvised Keratoscope (drawing on carton, shot using the macro mode of a not too recent digital point and click camera)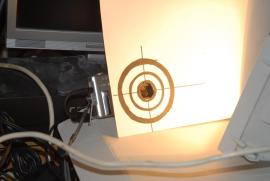 improvised keratoskope/placido disk setup with camera and floodlight (necessary for low iso/low exposure time/low noise images)

please don't ask me for a copy of the pattern - it's not very good, better make your own (I'll gladly host a pdf or image file if anyone feels up to making one in inkscape or similar)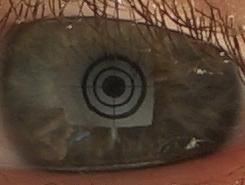 verletztes Auge nach drei Wochen: kaum mehr Veraenderungen sichtbar
three weeks later

---
---